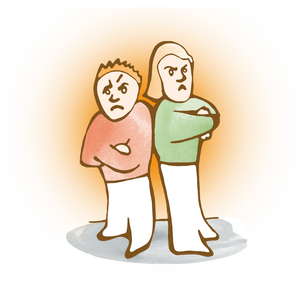 "Sibling Rivalry" is a collection of three stories about the common challenges between brothers and sisters.

Ages 3+
THIS IS A DIGITAL DOWNLOAD AND WILL BE DELIVERED VIA EMAIL
About the Stories
"The Snowball Factory" from Martin & Sylvia
Sometimes Martin just wants to be alone — and this can be frustrating to Sylvia, his younger sister. After Sylvia insists on playing the same games, working on the same projects, and talking about the same things, Martin asks Momma for help. Sitting on the couch, Momma tells two stories — one about an older child and one about a younger…

"Monkey Brothers" from Willowbee Tree
Clancy is upset that he is too young to do the things his older sister, Piper, can do. But when the willow tree takes him to a series of waterfalls in Southern Vietnam, he meets a snub-nosed monkey who has similar complaints. They have fun exploring the waterfalls together and learn that being younger does, indeed, have its good side.
"Tilde the House Tomte" from So Many Fairies
Tilde the House Tomte loves a challenge. When a mother with two children marries a father with two children — right under her own roof — she gets her challenge. Not only do the siblings bicker, but now the step-siblings have arguments as well. When the mother must be away for an entire week, Tilde helps the children see each other anew: with love and empathy.