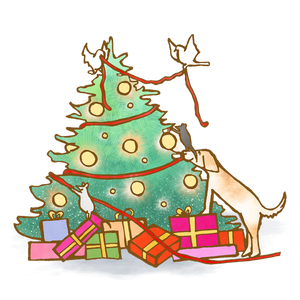 This collection of stories come from Christmas collections published in the late 19th and early 20th century. Some of the stories may be familiar to you, but likely many of them are completely new. We hope this collection brings you the same sweet nostalgia it brought us when recording them.
 Ages 5+
THIS IS A DIGITAL DOWNLOAD AND WILL BE DELIVERED VIA EMAIL
About the Stories
"Little Picola" was written by Nora A. Smith in 1890 and is a sweet story about a poor girl in Italy and the magical gift she receives on Christmas morning.

"Jimmy Scarecrow's Christmas" was written in 1913 by Mary E. Wilkins Freeman and is about a scarecrow who is hired by Santa to help him scare away any polar explorers that might happen upon the North Pole!

"Boreas Bluster's Christmas" was written by Mrs. W.J. Hays and published in 1913. It is very Victorian in its language but beautifully tells of the most precious Christmas gift a family could ever receive.

"Little Girls Christmas" was written by Winnefred E. Lincoln was published in 1913 and is about the magical adventures a little girl has on Christmas Eve.

"Little Gretchen and the Wooden Shoe," written by Elizabeth Harrison in the late 1880s, is about a young girl and her old grandmother and a special Christmas gift that surprises them both.

"Silvercap — King of the Frost Fairies," by Alice J. Patterson, is about a hopeful plan young Silvercap makes when he hears what his father, King Winter, has brought to the Earthland.

"The Little New Year" was written in 1884 by Elen Robena Field and is about a boy named Maurice who encounters a child who calls himself New Year.

"Grandfather's Penny" is a sweet wintertime story from C.S. Bailey about a little boy who earns a penny to purchase a peppermint stick.

"The Gift of the Magi" is a classic Christmas story from O'Henry about a poor couple and the gifts they choose to give each other.

"The Elves and the Shoemaker" is a classic Grimm's Fairy tale that has inspired so many other stories.

"Mrs. Santa Claus" is a story from Carolyn Bailey about Christmas Eve from the perspective of Mrs. Claus.

"Tiny Tim" is an adapted version of a particular part of the famous "A Christmas Carol" from Charles Dickens.