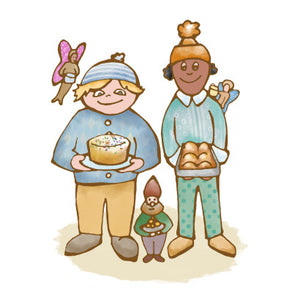 It's almost Thanksgiving, but Oscar and Aliyah don't feel festive at all. They are disappointed that their usual family Thanksgiving traditions can't take place this year. But things start looking up when Mrs. Castlechanter connects them with fairy friends who can help soothe the sting of separation in a delightfully magical way.
Ages 5+
THIS IS A DIGITAL DOWNLOAD AND WILL BE DELIVERED VIA EMAIL
About the Stories
"Part One: An Invitation to Hillwyn"
When Mrs. Castlechanter learns that neither Oscar nor Aliyah will be able to spend Thanksgiving with their extended families, her heart goes out to them. In a moment of inspiration, she wonders — could their fairy friends help? Mrs. Castlechanter gives special permission for Oscar and Aliyah to find out.
"Part Two: My Fairy Doorway"
Back at their own homes, Oscar and Aliyah's magical friends have begun construction on specialized gates, allowing these unique humans a path to venture into fairy territory … and make a connection with their far-off family members.
"Part Three: Making Bubbles"
As Oscar and Aliyah wake on Thanksgiving morning, they travel through their just-finished gates and meet up in the mystical land of Hillwyn. With the help of fairy magic, they catch a glimpse of their families and then head back home full of ideas for being together-apart with them in the human world.