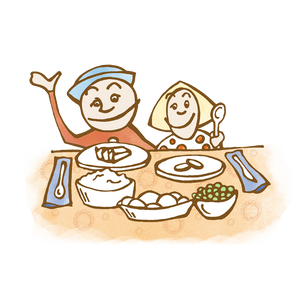 On the drive to Grandma's for their annual Thanksgiving Feast, brother and sister learn about the magical power of two important words: thank you. They realize that feeling a "thank you" with their whole body can change how you feel — and change how other people feel! This lesson sets the whole family into a Thanksgiving holiday filled with appreciation, joy, and family adventure.

Ages 3+
THIS IS A DIGITAL DOWNLOAD AND WILL BE DELIVERED VIA EMAIL
About the Stories

"Part One: Two Magic Words"
Brother and sister turn a long drive to Grandma's into a magical quest to bring gratitude into every part of the trip.
"Part Two: A Whole House Full of Thanks"
This story is about the play all the cousins put on together based on a fanciful story about Grandma's big house along with an imaginary and creative history of the Thanksgiving meal.
"Part Three: So Many Ways to Give Thanks"
This story is about all the ways the entire family helps each other prepare, cook, and then enjoy the feast together.