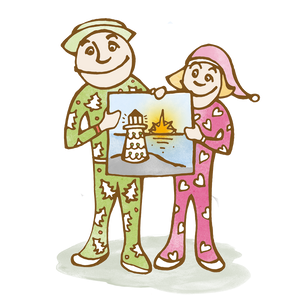 Join Martin and Sylvia as they explore what it means to celebrate the traditional "Twelve Days of Christmas." Inspired by twelve delightful stories from 18th century Maine.
Twelve stories for December 25 through January 5. Six-and-a-half hours of audio.
Ages 4+
THIS IS A DIGITAL DOWNLOAD AND WILL BE DELIVERED VIA EMAIL
About the Stories
All the presents have been opened and Christmas breakfast is complete. Martin and Sylvia sigh... Is all of the fun over?

But look! There's one more present hiding in the Christmas tree! It's a gift that can be enjoyed for twelve full days: an old vinyl record called "Twelve Tales of a Tullyport Christmas." Daddy pulls out his childhood record player, and the fun begins.

The twelve stories follow the Tully family — along with other founding members of Tullyport, a colonial town on the coast of Maine — as they create traditions and celebrations that are unique, delightful, and rich with community connection. These stories inspire Martin and Sylvia's family, as well as the neighbors and friends they invite, to create a wonderful Christmastime festival together.