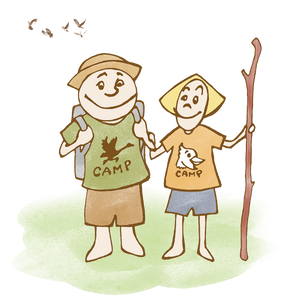 Martin spends his week at Goose-Eye Camp, where sees familiar faces from Goose-Eye Nature School and meets new friends. Sylvia stays home and has her own camp experience with Daddy!
This collection contains seven stories totaling more than 1 and 1/2 hours.
Ages 4+
THIS IS A DIGITAL DOWNLOAD AND WILL BE DELIVERED VIA EMAIL
About the Stories
"Part 1: "Packing List"
Martin is charged with fulfilling a packing list. As he collects item by item, he imagines all the fun activities he is going to experience during this grand and adventurous summer camp experience.
"Part 2: "Orientation"
As Sylvia fulfills her Explorer's Pack list for Bluejay-Eye Summer Camp, Martin prepares himself for his first day at camp. His nerves begin to set in, but as he arrives at camp, Martin is reminded of all the fun and familiar things about Goose-Eye.

"Part 3: "Attention"
Sylvia and Daddy discuss the different groups for Bluejay-Eye Summer Camp and all the activities they'll do together. Martin and the other Willow campers use attention and teamwork to find Pineberry, the forest gnome. One group member doesn't play by the rules, leaving Martin frustrated at the end of the day.

"Part 4: "Attitude"
Martin and his camp friends go on a hike and learn that a good attitude makes all the difference. When Sylvia and Daddy cook, she doesn't feel like doing the cleaning up part. However, when she does clean, she discovers that the seemingly less-fun part can be the most fun.

"Part 5: "Cooperation"
Martin and the Willow campers use their newly-acquired attitude and attention skills to complete tasks as a team. When competing ideas about the best way to build a fort come to the surface, the group divides into two opposing sides and causes upset within the group.

"Part 6: "Leadership"
Sylvia is frustrated with Laura being too young for Bluejay-Eye Camp, and Martin is unsure on how to put aside his differences with Lucas. Momma tells them a story about noticing the positive aspects of others — even if they don't get along well — and they realize that they have two great group members and friends.

"Part 7: "Surprises"
Both the Bluejay-Eye Camp and the Goose-Eye Camp put on their end-of-the-week shows, and when Martin and Sylvia come home they compare their seeds of intention to what really happened. Many things were exactly how they thought they would be, but camp proved to still include some magical surprises, as well.