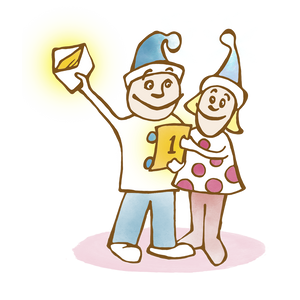 Follow the 25 magical days of Advent with Martin and Sylvia! From the playhouse to the library, from the Webers' restaurant to the Spunderful Shop, you can spend all of December with the delightful brother and sister as they follow their own Advent adventure.
Twenty-five stories for December 1 to December 25. Over five-and-a-half hours of audio.
Ages 3+
THIS IS A DIGITAL DOWNLOAD AND WILL BE DELIVERED VIA EMAIL
About the Stories
Listen to a story-a-day for all the days of Advent, starting on December 1st, or enjoy them at your own pace. Be inspired by the crafts, recipes, and activities that Martin, Sylvia, their friends, and family engage in during this precious time of patience, gratitude, and possibility!
The stories in this series are reverent but not religious. The stories include references to traditional elements of the Christian celebration — such as Christmas carols and Christmas trees; beyond that, they simply follow the basic precepts of Advent — which are being patient and watchful. This audio Advent calendar is inclusive to anyone who celebrates Advent, as well as those who are open to the festival as a way of honoring a very magical time of year.
Click here to download the Martin & Sylvia Advent Calendar and Activity Bundle