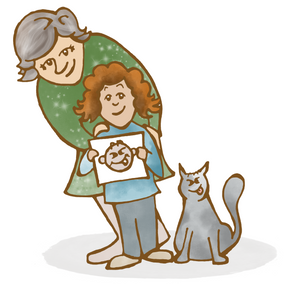 Libby's mom is leaving for a few days to go camping with her aunt, and Libby has all the feels: worried, sad, excited, oh! When Libby mistakenly hears Aunt Cecily refer to packing a "Feel Guide," Libby perks up. Her grandmother comes to visit and they set to work studying and recording emotions in a unique way that's useful for the whole family.
Ages 3+
THIS IS A DIGITAL DOWNLOAD AND WILL BE DELIVERED VIA EMAIL
About the Stories
"Part One: Aunt Cecily's Sister Time"
As Libby's mom packs to leave, Dish helps Libby sort through all of the emotions she's feeling: sad to say goodbye to her mom, and a bit worried — but also excited — about her grandmother's visit.
"Part Two: Collecting Feelings"
Libby's grandmother loves the sound of a "Feel Guide" — she suggests that they write the book themselves.
"Part Three: A Special Kind of Mad-Sad-Scared"
As Libby and her grandmother reflect on the variety of feelings they witnessed on their walk — from giddy to wistful to frustrated — the book begins to take shape.
"Part Four: Feel Guides for All"
Libby realizes that Dish will be the perfect partner to help her and her grandmother as they finish the Feel Guide — a book that will become a unique gift for someone special.