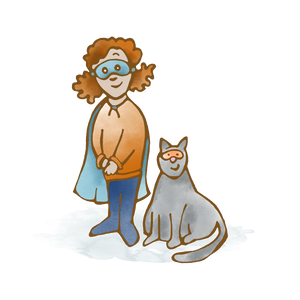 Libby and Dish are best friends who live in a high-rise apartment in the big city. Libby is a shy, quiet girl with a big imagination, and Dish is a well-fed kitty with a keen mind for plans. Both of them are fond of adventures, fruit smoothies, and Mr. Bhachu, the grumpy old man at the end of the hall. With Libby's "Adventure Checklist" and Dish's sage advice, the two of them discover the many wonders of their home in the city.
Ages 3+
THIS IS A DIGITAL DOWNLOAD AND WILL BE DELIVERED VIA EMAIL
About the Stories
We've taken the full Libby & Dish collection from the streaming site and divided it up into three collections for purchase. Each collection has 15 stories. For more details on the stories, check out their full descriptions here.