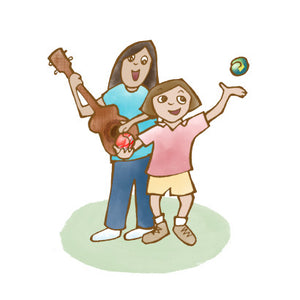 When Ella and Ollie's family trip to Cuba gets canceled due to the pandemic, Daniel suggests that they bring a little bit of Cuba to their own backyard through a homemade festival — but no one could have predicted that this fun idea would enrich their community so much.
Ages 8+
THIS IS A DIGITAL DOWNLOAD AND WILL BE DELIVERED VIA EMAIL
About the Stories
"The Worst Summer"
Ella and Ollie can't wait for their family's summer trip to Cuba — but their adventure gets canceled due to a worldwide pandemic. Ugh! Their frustration overwhelms them until Daniel suggests a way to bring Cuban culture to their own neighborhood.

"Old Stories from Mom & Dad"
As Ella and Ollie's family embarks on preparations for their Cuban festival, Ella decides to interview her parents to learn about their ancestral cultures. What begins as a search for simple foods and games turns into a true history lesson with present-day implications.

"Fire, Family, and Friends"
Ella and Ollie continue their ancestral research through interviews with Martin and Sylvia's parents and with Mr. and Mrs. Brown. As they learn about Scotland, Ireland, Latvia, and the mountain culture of southern Ohio, brother and sister begin to understand more about the way community hardships can be overcome and celebrated — and how they can join the fight against injustice.

"The Festival"
The big day arrives and the celebration begins! All the work that Ella and Ollie have put into preparing for the Fiesta del Fuego pays off in a day full of fun, food, and celebration as the neighbors join together in honoring their ancestors — and resolving to work for justice for all communities.