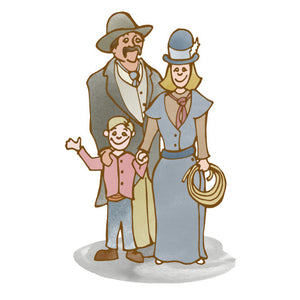 "Dry Gables: Hands Together" builds on the first Dry Gables series – with more of the gold rush era characters you have grown to love! This series has plenty of American history and United States geography – plus they are tailored to be used by parents and educators as a way of better understanding their children. Every one of the stories is accompanied by a video and blog post that pulls out the lesson and offers practical skills you can try at home.

Ages 8+
THIS IS A DIGITAL DOWNLOAD AND WILL BE DELIVERED VIA EMAIL
About the Stories
"A Great Burden Is Lifted"
When Wilhelm finds out his wife, Jane, is going to have a baby he is overwhelmed by uncertainty, but with some new planning and a little fun, his uncertainty turns to excitement.
"As I Truly Am"
Liesl Hertz is very upset by the arrival of a "snake-oil" salesman who has arrived in town. Her husband helps her to think through her feelings before overreacting.
"Something Greater Than Myself"
EB Hertz has tried being many different things, but it isn't until his friend Franz suggests that he run for mayor that he finds his true calling... caring for his community.
"Get Your Ducks in a Row"
Seamus the school teacher was just as excited for the first day of school as the children. Until things started to go wrong and he wondered, "Am I the right man for the job?"
"On Your Feet"
Max Denken has a mission to uncover the truth about gold tycoon, George Hearst, but he needs some help from his friend, Johann, to get the job done.
"What Nothing Can Bring"
Lena Denken makes sure everyone in Dry Gables has a very special and celebrated birthday, but can she let go of worries and "to-do's" and enjoy her own?
"When Wide is Not Enough"
Jane wants to convince everyone in town that they need an automobile, but first she has to learn all about them, and in the process, she learns about herself.
"Whatever Power I Have"
When Johann loses a friend in battle he is understandably angry and ready for revenge, but Liesl, the town's nurse, helps him redirect his energy to help others.
"All In"
Marta the town baker is loved by everyone, but her tendency to put things off and be indecisive can be frustrating. Will these traits prevent her from getting EB's birthday cake done in time?