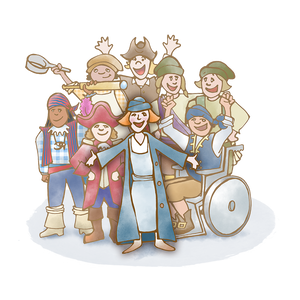 Meet Fiona Murphy, the missing member of the Windward crew. Like with the other girls, The Windward Chronicles book series holds a special place in Fiona's heart. On her tenth birthday, a beloved gift launches her into a magical, whirlwind pirate adventure — quite a distance from the Windward where she belongs! She hears of the mysterious "Windward Girls" but seems to always be a few steps behind them. Will she be able to unite with this group of friends? Fiona will have to follow the following seas to find out!
Ages 7+
THIS IS A DIGITAL DOWNLOAD AND WILL BE DELIVERED VIA EMAIL
About the Stories
"Episode One: The Birthday Present"
Coming from a family that loves sailing, it's no surprise that Fiona Murphy loves the Windward Chronicles.
"Episode Two: The Otherworld"
When Fiona's mother reminds her of the magical quality of Halloween she finds herself in a dreamlike adventure unlike anything she has experienced before.
"Episode Three: The Surgeon's Assistant"
Fiona's experiences in the world of the Windward grow more vivid. Is it a dream or is it another world?
"Episode Four: How to Catch a Monkey"
Aboard Captain Finnegan's ship, Fiona proves invaluable to the ship's surgeon and unexpectedly helpful to a stowaway monkey.
"Episode Five: A Foolish Choice"
Rumor has it that her Windward friends have been captured and Fiona sees it as her duty to effect a rescue.
"Episode Six: The Guide Will Find You"
When Fiona returns to the world of the Windward, she takes her mother's advice and looks for a guide — someone to show her the rules of life in this place and, perhaps, the way to find the Windward.
"Episode Seven: Not the Plan"
Fiona settles into a comfortable pattern that includes a life in Port Harmony.
"Episode Eight: So Close"
Fiona finally meets with success in connecting with the Windward girls — and discovers an unsettling truth about the Baker in the process. What should she do now?
"Episode Nine: The Path Presents Itself"
Having lost track of the Windward girls, Fiona feels restless at home.
"Episode Ten: Charleston"
Partnering with Doc Phosphorus, Fiona is tasked with the creation of a sleeping potion … and decides in the moment to create a few extra concoctions of her own.