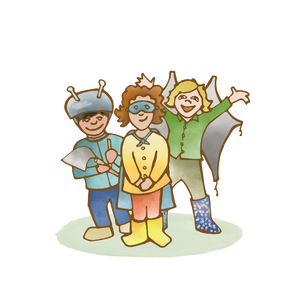 When Libby and her friends Morgan and Juan Paco decide to alter their usual Finder's Club route through the park, they experience some unexpected adventures. Between a magic wishing well, an elusive animal, and a mystifying trail of confetti, the club members use all of their powers to discover what might just be the best find ever.
Ages 3+
THIS IS A DIGITAL DOWNLOAD AND WILL BE DELIVERED VIA EMAIL
About the Stories
"Part One: A New Kind of Adventure"
Libby, Juan Paco, and Morgan's weekly adventure hike in the park has reached an impasse. Libby likes the path they always take, but Morgan wants to go somewhere new. What to do?
"Part Two: The Far Side of the Park"
Libby wrestles over the concept of the magic well they might discover at the park — and worries begin to overtake her mind. Is it bad magic, or good magic?
"Part Three: Waffle-opagus"
As the friends explore the park in search of the magic well, they begin to uncover intriguing clues.
"Part Four: The Wishing Well"
A trail of confetti leads the club to a body of water. Could this be the place they have been looking for?
"Part Five: The Best Find Ever?"
The club's latest discovery transforms into a pathway to make all of their wishes come true.