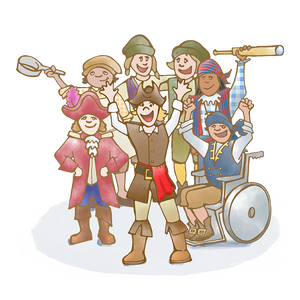 In this third adventure in the Windward Ho! series, Harriet, the Windward's quartermaster, is experiencing some self-doubt amongst her athletic and competitive family members. How might she find a place where she can excel? As Harriet reflects on her time on the Windward, she wonders if her leadership might truly shine in the role she still dreams of: the ship's captain. Through a series of mysterious events, Harriet finds herself in a position of authority around her friends — and learns not only what true teamwork looks like, but also finds a role in which she can be her true self.
Ages 7+
THIS IS A DIGITAL DOWNLOAD AND WILL BE DELIVERED VIA EMAIL
About the Stories
"Episode One: Before Dawn"
Harriet wonders what would it be like to be captain of the Windward. It takes just a moment for a magical event to lead her to a new adventure where she might just find out.
"Episode Two: Desert Island"
After assessing the state of the Windward, Harriet decides to explore the island — and discovers that she is not alone.
"Episode Three: All Hands on Deck"
With the help of a couple of unlikely deckhands, Harriet does some investigating on the ship and discovers new information.
"Episode Four: Captain and Quartermaster"
The Windward crew is together again. But who will lead? Harriet wants to prove she can be captain.
"Episode Five: S.O.S"
Tensions begin to rise as Harriet's team question her leadership — but they quickly band together when they stumble into a potentially dangerous situation. 
"Episode Six: Hidden Room"
Val's mechanical genius shines through as the crew members strategize about their next steps, and a set of technical plans uncovers a secret room.
"Episode Seven: Impressions"
As the captured girls march through the forest, a mysterious force takes shape, imprisoning their captors and freeing the girls in a most unexpected way.
"Episode Eight: Playing Possum"
With the crew divided and unaware of each other's movements, the situation looks grim — until elements of secrecy, deception, and a flair for the dramatic conspire together for the benefit of the Windward.