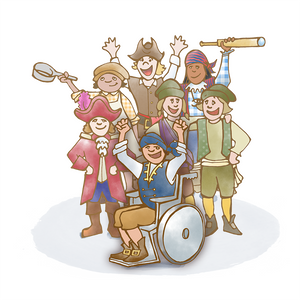 This collection features Val, the Windward's loyal, protective, and peace-loving boatswain. A funny bit of monkey business sets Val into crafting a new Pirate Code. It's time to let go of the "old ways" and build a new code based on kindness, service, and authenticity.

In the process, the pirate girls land at the crime-laden town of Port Harmony, prompting them to disguise themselves while making particular dramatic use of Val's wheelchair. They encounter all sorts of creatures and characters, including a tricky band of robbers called, "Monk McLuhen and the Quiet Boys." The girls use their new code to cleverly but kindly get their stolen things back.

Ages 7+
THIS IS A DIGITAL DOWNLOAD AND WILL BE DELIVERED VIA EMAIL
About the Stories
"Episode One: What's Right in Front of Us"
Val, boatswain of the Windward crew, has returned home. Immediately she begins to observe mysterious happenings.
"Episode Two: Crimping and Commandeering"
Val finds the key to her mysteries when an old pirate acquaintance reveals himself — a monkey named Pi!
"Episode Three: Messengers"
Pi and Val's partnership grows deeper and is displayed in its fullness when the two encounter strange men who begin to chase them.
"Episode Four: Robbers"
Suddenly back on the Windward, Val and her friends discover that the ship has been robbed, and Pi turns out to be a valuable asset to the team.
"Episode Five: Sniffing Around"
Val and her friends take full advantage of her wheelchair as they immerse themselves in their new disguises in the lawless city of Port Harmony.
"Episode Six: Codes and Calculations"
Wink and the other half of the Windward crew approach the port city from another angle.
"Episode Seven: Making a Deal"
Val and her crew convince the local thugs to facilitate a deal in which they can buy back the items from the Windward.
"Episode Eight: One of Us"
Tensions rise as each band of Windwardians pursues their plan.