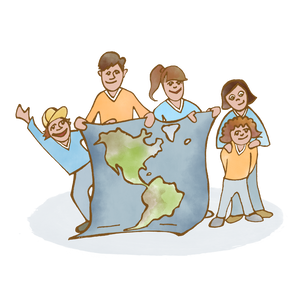 Meet the Dory family: a mother and her five children, an affectionate nickname ("the Horde"), and a host of mysterious powers. When word comes that their grandfather has suddenly died, the family is drawn from their quiet Kentucky farmhouse into an adventure across North America. On this epic journey, the Dory Horde must compete with their conniving uncles to uncover the source of their unusual powers and the secret fortune that their grandfather has left behind.

Ages 9+

THIS IS A DIGITAL DOWNLOAD AND WILL BE DELIVERED VIA EMAIL
About the Stories
"Episode One: The Long Ride North"
Aurora and her five children live a quiet life in the woods, until one day they receive a phone call: their grandfather has died suddenly and the family must take the long journey from Kentucky to his mysterious estate in the Yukon territory. But why? And what will they learn once they arrive?

"Episode Two: Dory Museum of the Remarkable"
As they disembark from the train, the Dory family finds itself in unfamiliar territory. Was someone supposed to meet them? Why was their mother feeling so strange? And where should they go next? Walking through the local streets, they happen upon a museum with their family name on it — and encounter a long-lost friend.

"Episode Three: The Gate to Tirichik Estate"
Settled into an elegant limousine, the Dory family travels toward their first glimpse of their grandfather's estate. What will it be like? Who will they meet there? And can they trust their grandfather's lawyer to be telling them the truth?

"Episode Four: Three Warnings"
As the Dory family becomes acquainted with their grandfather's spectacular estate in a beautiful remote spot, each person responds differently — asking curious questions, collapsing in exhaustion, climbing the walls, or even discovering mysterious treasure. But they are being watched. In such an environment, what will tomorrow hold?

"Episode Five: Four Rings Opens the Chest"
The three eldest Dory children attend the reading of their grandfather's will, where some curious events transpire — the opening of an ancient-looking treasure chest, the unveiling of a challenge from beyond the grave, and the revelation of deep-seated animosity between their mother's siblings. The children's next steps may determine the fate of the family fortune … and honor.

"Episode Six: Tonight"
As the children talk with the rest of their family about the strange events that transpired at the reading of the will, one thing becomes clear to them all: they must leave the estate — and quickly. But is it safe to leave their mother in her weakened condition?

"Episode Seven: The First Medallion"
The Dory children debate over the safest way to escape the house unnoticed — only to follow the impetuous lead of an energetic younger sibling. Help comes unexpectedly in many forms … including a friend they meet at their destination.

"Episode Eight: Shookum Jane Tells Quite the Tale"
Upon learning the rich history embodied in their friend Jane, they receive a story from her — one that gives shape to their current dilemma and shines a light on the next steps in their quest.

"Episode Nine: Charlie's First Mate"
Jane and the Dory children take refuge on the boat of Jane's friend, a captain named Charlie. As they travel down the Columbia River, they become acquainted with a very unusual cat … and discover that Sessi's unique ability to communicate is more extraordinary than they thought.

"Episode Ten: On Their Own" 
Making their way down the Columbia River, the Dory children learn a couple of important things through Sessi's remarkable abilities — and her remarkable feline friend. They undertake a detour to avoid their predatory relatives and hear tell of their next storyteller: the Pigeon Man.

"Episode Eleven: The Pigeon Man and the Stardust"
As the Dory children get to know the Pigeon Man, they hear moving stories about the magic of pigeons and starlight in their quest to fulfill their grandfather's wishes. In the safety of their newfound friendship, they rest easily until suddenly … danger is upon them again.

"Episode Twelve: The Homing Bus"
Pursued by their aunt, uncle, and cousin, the Dory children lead their menacing relations on a wild goose chase into town while they themselves set out for Lake Tahoe in Wilfred's fascinating bus. While on their spontaneous road trip, Wilfred relates another significant story and Tahoe begins to sense a new danger.

"Episode Thirteen: Tahoe Tessie Tours"
As the crew approaches Lake Tahoe, Colum must trust her instincts to lead them to their next destination: Captain Jim Gamalanga and his Tahoe Tessie Tour. After Wilfred departs reluctantly, the children approach Captain Jim and learn that this unlikely swindler might just be the next storyteller on their quest.

"Episode Fourteen: In a New Light"
Over an enormous meal, the Dory children hear about their aunt and uncle's thievery of a uniquely beautiful dragon egg — and learn that their relatives neglected to hear the story associated with it. They coax Captain Jim to tell the story of the dragon egg and begin to understand its ancient connection to Lake Tahoe.

"Episode Fifteen: A Series of Surprises"
Reunited with their friend Wilfred, the Dory children seek guidance from their far-away mother. Through Tahoe's powers of communication, they find themselves drawn to Beatrice Ortiz, a famous Pueblo potter. Before they depart, they receive a generous gift from Captain Jim … and experience an unexpected illness within their family.

"Episode Sixteen: The Dragon's Wings"
En route to New Mexico, they discover that Sessi, the youngest member of their crew, has a mysterious illness. The older children collaborate to guide the bus to their destination and — they hope — find a cure for whatever ails Sessi.

"Episode Seventeen: Waking the Kachina"
Greatly relieved that their sister's health was out of danger, the adventurers join Beatrice for a breakfast that feeds body and soul. Her story of the kachinas both interests and concerns the children, and they leave breakfast unsettled … only to discover a delightful surprise awaiting them near the bus.

"Episode Eighteen: Putting It All Together"
Thrilled to be reunited once again, the children exchange stories with their mother and begin the next stage of their journey — one that will impact their present, future, and even their collective past.

"Episode Nineteen: The Aim of Aunts and Uncles"
In a surprise meeting with Uncle Aion, the Dory children outsmart his scheme and uncover his secret powers. But on the next leg of their journey, they're forced to encounter yet more unpleasantness in the form of some familiar faces.

"Episode Twenty: Battle on the Boat"
A face-off between Uncle Apollo and the Dory Horde turns ugly when cousin Alister gets involved. Only later do the children and their mother realize that they have a powerful secret ally working on their side.

"Episode Twenty-One: The Gilded Dragon"
With Aunt Diane on their side, the family drives deep into Colombia to search for the fifth destination — past a gate, through a jungle, and to a mystical lagoon where they find a very old man with an important story for them.

"Episode Twenty-Two: Reunion"
Their quest completed, the Dory family catches a train for the long journey back to the Yukon Territory. Along the way, they begin putting some pieces together and grasp exactly what kind of amends their grandfather had intended to make. But when they reach their destination, another surprise awaits them.

"Episode Twenty-Three: Amends"
With a new sense of partnership, the Dory Horde solidifies their plans to make amends for their grandfather's wrongdoings — and begins to suspect the dangers they may encounter. What lies in store for them as they begin their next adventur?