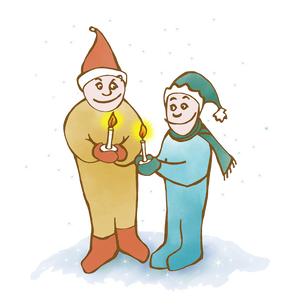 Christmastime is a particularly lovely time in Martin and Sylvia's home! Decorate, celebrate, and share the magic along with the clever brother and sister.
The three stories in this collection follow the events before Christmas, as the creative brother and sister enjoy their favorite holiday traditions.
Ages 3+
THIS IS A DIGITAL DOWNLOAD AND WILL BE DELIVERED VIA EMAIL
About the Stories
"Part One: Christmas Garden"
Every year Martin and Sylvia's family builds a Christmastime Spiral Garden to celebrate the holiday season. This year, however, Martin and Sylvia want to do it themselves, without any help. Daddy is hesitant — building the spiral shaped stone path can be complicated and exhausting. But brother and sister are undaunted. Martin, in charge of the stones, finds out what it is to meet a challenge with determination and creativity.

"Part Two: Getting Their Tree"
Last year, Martin and Sylvia got their Christmas tree from in town. The year before that, they hiked into the woods. This year, Daddy has the idea of taking a horse-drawn wagon into the woods of a Christmas tree farm, where they will find not only a field of Christmas trees, but also a warm cabin and hot chocolate. The family enthusiastically agrees to go — and the experience proves to be even more magical than expected.

"Part Three: Silent Night"
Martin and Sylvia's family loves to sing holiday songs; they each have their very favorite. Sylvia's is "Silent Night." She loves it so much that she wants to offer a special concert of "Silent Night" at the annual caroling party. She enlists Martin and her friends to help. But when she ends up by herself in the playhouse for the "rehearsal," Sylvia experiences some special holiday magic that brings a whole new meaning to her favorite song.