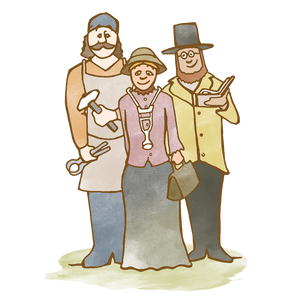 "Dry Gables" is a unique series of stories centered around the people who live and work in a gold-rush era small town in South Dakota. Each of the characters has their own reason for coming to Dry Gables and each offers an essential ingredient to the town's well-being.

Every character embodies a way of being in the world — with unique behaviors, motivations, and fears. 

This package includes the four introductory stories to the collection.
Ages 8+
THIS IS A DIGITAL DOWNLOAD AND WILL BE DELIVERED VIA EMAIL
About the Stories
"Part One: A Single Stack of Stones"
"A Single Stack of Stones" introduces the series through our narrator, John Bernard Bauer — a stone mason, sculptor, and now writer who remembers all the stories of his home town. In this first story, J.B. talks about the town Dry Gables and the magical way in which it was founded.

"Part Two: The Builders of Bon Homme"
"The Builders of Bon Homme" centers on the Bauer family, a family of strong will. Johann (the blacksmith), his sister Marta (the baker), and Marta's son Wilhelm (a carpenter), travel across the Atlantic Ocean and then traverse most of America to found the little town of Dry Gables, looking for a place where they can live how they want to live — independently and in freedom.

"Part Three: Big Hearts of Yankton"
"Big Hearts of Yankton" centers on Leisl Hertz, her nephew, EB, and how they meet an Irish schoolteacher named Seamus in the big city of Yankton, South Dakota. The three of them ultimately leave Yankton for the same reason — they wish to be seen and honored for their unique gifts. This choice opens up great possibilities but requires, of course, great courage.

"Part Four: A Better Plan for Elm Springs"
"A Better Plan from Elm Springs" centers on the Denken family — Franz, Lena, and Max who are initially content with the traditions and daily rhythms of their Elm Spring community. But Lena's adventurous little sister Jane introduces new and exciting ideas to the Denkens — ideas about a better way of living and working. Eventually she is able to convince them to go, recognizing that the opportunity comes at a risk.