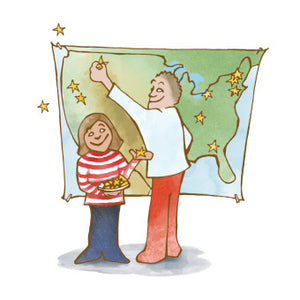 The United States of America is a magnificent experiment. It is a nation built on a dream of a better future, on equality, and on true freedom. But what does that really look like?

In this collection of stories, we learn about the American Experiment through the experience of "regular folk" — one from each state, plus every district and territory. Rebels, industrialists, foresters, farmers, and immigrants from every corner of the planet and Native folk who have been here for a very long time – we will meet them all in a moment of true citizenship: when they make the American Experiment their own.

A note for all the stories — these stories are all historical fiction — pulling from real historical and biographical facts — but "sparkled" into a narrative that engages and inspires. Though this is historical fiction and the characters have been developed to accommodate a story, their attributes and development may be useful as reference points and inspirations.
Ages 8+
THIS IS A DIGITAL DOWNLOAD AND WILL BE DELIVERED VIA EMAIL
About the Stories
Collection One contains the following states: Delaware, Pennsylvania, New Jersey, Georgia, Connecticut, Massachusetts, Maryland, South Carolina, New Hampshire, Virginia, New York, North Carolina, and Rhode Island
Collection Two contains the following states: Vermont, Kentucky, Tennessee, Ohio, Louisana, Indiana, Mississippi, Illinois, Alabama, Maine, Missouri, and Arkansas
Collection Three contains the following states: Michigan, Florida, Texas, Iowa, Wisconsin, California, Minnesota, Oregon, Kansas, West Virginia, Nevada, Nebraska, and Colorado
Collection Four contains the following states: North Dakota, South Dakota, Montana, Washington, Idaho, Wyoming, Utah, Oklahoma, New Mexico, Arizona, Alaska, and Hawaii
American Territories and Washington DC includes: Puerto Rico, Guam, American Virgin Islands, American Samoa, and Northern Mariana Islands
For more details on the stories, check our their full descriptions here.