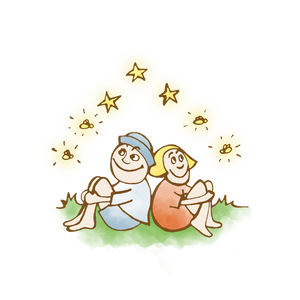 This collection is a long Martin & Sylvia story divided into three parts. The story follows the delightful events of a summer adventure to the Thousand Islands for a family reunion, a celebration of imagination, and a hunt for mermaids!

Ages 3+
THIS IS A DIGITAL DOWNLOAD AND WILL BE DELIVERED VIA EMAIL
About the Stories
"Part One: Family Reunion"
In the first story, brother and sister learn that the extended family of cousins has been invited to gather in a magical place called "Mermaid Island"! Once a summer camp for boys and girls, Mermaid Island is filled with stories — particularly stories of mermaids! Martin and Sylvia are beside themselves with excitement when they meet their host, cousin Daniel, a magical writer and storyteller, who welcomes them to a weekend of fun.

"Part Two: Stories by the Fire"
In the second story, Daniel brings all the cousins together for an evening of stories. But he's not the only one telling stories — everyone is encouraged to share stories and discover what they all have in common. Sylvia finds that she has a LOT in common with Cassie — a distant cousin who also enjoys building fairy houses, dressing up in costumes, and now, a desire to see a real mermaid!

"Part Three: Looking for Mermaids"
In the third story, Sylvia and Cassie get up early to look for real mermaids on Mermaid Island and find some magical clues — including some inspiring stories from both Momma and Daniel.