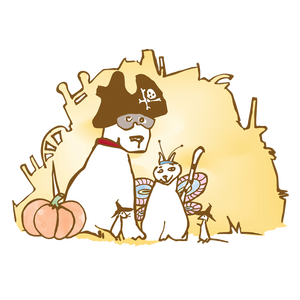 Our favorite junkyard friends are preparing a Halloween festival for their friends from the neighboring town! Enjoy these three stories filled with Halloween fun and adventures.

Ages 5+
THIS IS A DIGITAL DOWNLOAD AND WILL BE DELIVERED VIA EMAIL
About the Stories
"Part One: Cat-Loweeen"
Benjamin Thompson, the Junkyard's clever cat, invites his friend Cowboy — a black cat from town — to the Junkyard Halloween festival. When Cowboy asks if he can bring a "few friends," the rest of the Junkyard animals decide to design the entire event just for the visiting cats. The mice pick the name "Cat-loween" for their honored guests. 
"Part Two: The Three Little Kittens and the Big Bad Skunk"
Mr. Flinch comes up with an idea for a story they could dramatize for the visiting cats. The premise sounds an awful lot like a famous children's story, but Mr. Flinch claims that it is entirely original. There is much to do before the big Halloween event: creating the costumes, building the sets, and learning lines — the whole junkyard is a-bustle with Halloween preparations!

"Part Three: Halloween Surprises"
Right before the cats arrive, the steadfast watchdog informs the others that the brush pile (home to the mice and one of the Halloween sets) is going to be removed by the junkyard workers. The animals scramble to adjust the plans. But this is not the only Halloween surprise the evening has in store!