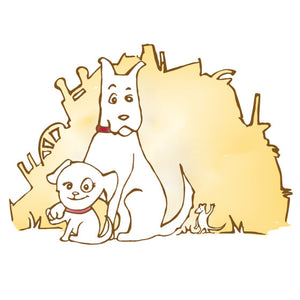 In the Junkyard, home of a happy group of unusual animals, there are a few important rules: the animals take care of each other and all must remain hidden from the warden. When a new animal comes to the Junkyard, a sweet puppy without a home or a name, another rule comes to the fore: all belong.

Ages 4+
THIS IS A DIGITAL DOWNLOAD AND WILL BE DELIVERED VIA EMAIL
About the Stories
"Part One: The Puppy"
In this chapter, we are introduced to a stray puppy with no name. She is adorable and nearly every one of the animals falls instantly in love with her. Spiro, the fun-loving skunk, however, is not so impressed.

"Part Two: What To Do?"
In this chapter, the puppy is discovered by the warden and given her name: Winnie. Then the junkyard animals learn some unfortunate news — the warden is going to take her to the humane society where she can find a new home!
"Part Three: A Pleasant Surprise"
In this chapter, Spiro — who previously wanted nothing to do with Winnie — comes to the rescue and creates a plan that will bring Winnie back to the Junkyard.