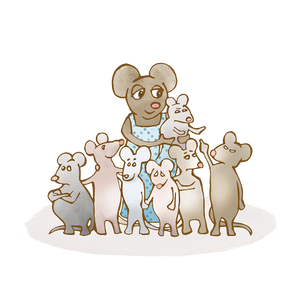 How is Georgia Bean able to be such a loving and capable guardian for the many, many mice who live in the Junkyard? Her secret is positive attention with some clear boundary-setting. In this three-story collection, we experience day-to-day life in the brush pile with mice who sometimes have hurt feelings, disappointed expectations, emotional outbursts, and even a little rule-breaking. We get a window into the ways Georgia Bean meets every situation with a cool head, clear form, and a very big heart.
Ages 5+
THIS IS A DIGITAL DOWNLOAD AND WILL BE DELIVERED VIA EMAIL
About the Stories
"Part One: Puppies and Problems"
Sergeant needs some help. Winnie has broken rule number two again and Sergeant is wondering if he will ever be able to successfully train her. He goes to Georgia Bean wondering if she can help and it turns out … she can! She has had experiences just like this, and she offers to tell him a very important story.

"Part Two: Buckner and the Spicy Mice"
Georgia Bean tells Sergeant, Ben, and Mr. Flinch about a mouse that once lived with them in the Junkyard: an energetic and rambunctious young fellow named Buckner. In the story, she is able to figure out what motivates Buckner and then she has a revelation on how to better support him.

"Part Three: Practice and Play"

Sergeant and Ben are inspired and wish to practice what they learned from Georgia Bean. At first they thought it would only help with young rambunctious animals like Buckner, but they are delighted to find it made any challenging conversation or complicated relationship much more respectful and easy!