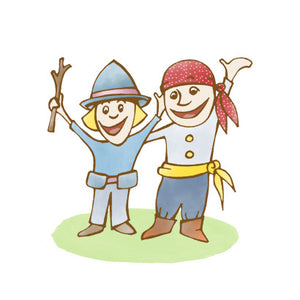 Martin and Sylvia can find fun and adventure just about anywhere they go! When the brother and sister don their explorers' hats, the whole back yard becomes a new land waiting to be discovered. The spring brook becomes a rainforest river! The apple trees become hot air balloons! The neighborhood library is a wizard's castle! These stories delight in the children's adventures at home and beyond.

Ages 3+ 
THIS IS A DIGITAL DOWNLOAD AND WILL BE DELIVERED VIA EMAIL.
About the Stories
Autumn Season includes: "The Chimney Sweep," "The Necklace," "The Game of Zoo," "Grit," "How to Fly," "Butterflies," "The Treeclimbers' Code," "Pickles for Pickles," "A Little Bit of Light," "Grandma's Brownies," "Wood Elves," "Hidden Fairies," and "A Night for Stories"
Winter Season includes: "Singing Together," "Special Secret Books," "Too Much," "Neighborhood," "Friend Cake," "Arctic Explorers," "Family Dance," "Dreaming the Garden," "Cabin Fever," "The Cranky Show," "How to Fall," "Digbe and Firble," and "Sweetness"
Spring Season includes: "Salamander Crossing," "A Hat for That," "The Dog Park," "Spring Fever," "The Rainbow Table," "Smelling Your Way," "Welcoming Dozer," "Spies and Double Agents," "Green Up!," "Pay It Forward," "Lamb's Wool," "Names of Green," and "Strawberry Slushy Siesta"
Summer Season includes: "The Tides," "Sheep and Shepherds," "Burger Night and the No No Bug," "So Much Kale," "Listening to the Story Whispers," "Projects," "Dirt," "Jam Poetry," "Four Kinds of Pickers," "The Fairy Ferry," "Paddling to Treasure Island," "Mud Oven," and "Awesome Possum and the Mole Patrol"
For more details on the stories, check out their full descriptions here.