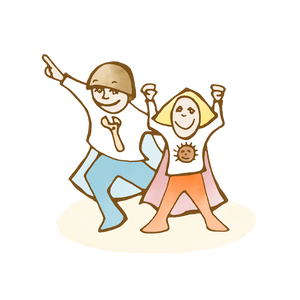 What exactly is a superhero? Martin and Sylvia pursue this question after learning about superheroes from their neighborhood friends. Through conversation with Momma and Daddy, they're astonished to learn that there are people in their very own town who possess secret superpowers. An adventurous outing the next day introduces them to these special powers … and shows brother and sister the path to developing their own.

Ages 4+
THIS IS A DIGITAL DOWNLOAD AND WILL BE DELIVERED VIA EMAIL
About the Stories
"Part One: Are Superheroes Real?"
When Martin and Sylvia learn about superheroes from their neighborhood friends, their curiosity is instantly piqued. What is a superhero? Are superheroes real?
"Part Two: The Power of Illumination"
Brother and sister prepare themselves for a thrilling conversation with Charlotte, the librarian. Is she really a superhero?
"Part Three: The Power of Affection"
Brother and sister undertake the next lesson in their quest to learn about superpowers — this time with instruction from the town's antique shop owner on a very special way of listening.
"Part Four: Training"
Martin and Sylvia's superhero education deepens into training and practice with the help of both Mr. Amos and Charlotte.
"Part Five: The Power of Form"
Martin and Sylvia discover yet another element of their superhero training from Miss Melinda in her arts studio.
"Part Six: Practice"
Martin, Sylvia, and Momma suddenly find themselves in a position to use their powers to help someone in need.
"Part Seven: Power of Humility"

As the team responds to Mr. Brown's call for help, each family member offers a unique contribution that ultimately solves the dilemma.