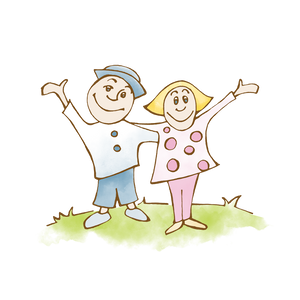 Martin and Sylvia live in a tall house with lots of windows. In their backyard is all a five and a seven-year-old could ever want: a brook, a tree swing, a playhouse and a garden full of magical friends. Join this enterprising brother and sister for a year of delight and wonder. Whether it's the heat of summer or the deep snows of winter, every day is an adventure!

Ages 3+
THIS IS A DIGITAL DOWNLOAD AND WILL BE DELIVERED VIA EMAIL.
About the Stories
Autumn Season includes: "The Cabin," "Goose-Eye Wilderness School," "Gargoyles," "Apple Pies," "The Sit Spot," "Super Raker," "A Trip to the Doctor," "Tracking," "Helping Hands," "Comfort Food," "Family Farms," "Winters Little and Big," and "The Dark"
Winter Season includes: "First Day," "Helping Out," "Fairy Snow Fort," "Moving," "Telling the Truth," "Putting on a Play," "A Trip to Grandma's," "Going on a Date," "Fairy Detectives," "St. Patrick's Day," "Festival of Lights," "Throwing a Party," and "A Plane Trip"
Spring Season includes: "Big Brother," "Stuck in the Mud," "Springtime Fun and Foolery," "Signs of Spring," "Spring Cleaning," "The Cruds," "Good Old Dog," "Mother's Day," "A Fine Town," "Woodpecker Tree," "Pick-Up League," "The Playhouse," and "Thank You's"
Summer Season includes: "A Trip to the City," "Spy Team," "The Cook Out," "Animal Daycamp," "Pirates," "The Drawing Contest," "Cousins," "This is Camping," "Loose Tooth," "The Enchanted Frog," "The In-Between," "Babbit the Rabbit," and "The Sick and Tired Day"
The Sample Pack includes: "May Day," "Mr. Brown's Bees," and "The Goose Pond"
For more details on the stories, check out their descriptions here.