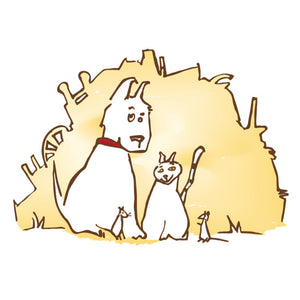 Benjamin Thompson is an unusual name for a cat. But then Ben is an unusual cat. Whether by fate or by folly, he finds a home in an unusual place – a Junkyard. And there he finds his place in a community of delightfully unusual friends: a steadfast watchdog, a refined rat, a silly skunk, a wise old possum, and a host of helpful mice. Junkyard Tales delights in the joys, challenges, and adventures of friendship, community, and doing good in the world.
Ages 5+
THIS IS A DIGITAL DOWNLOAD AND WILL BE DELIVERED VIA EMAIL
About the Stories
Autumn Season includes: "Courage," "The Train," "The China Cabinet," "The Guardian of the Junkyard," "Busy Rabbit's Trick," "A Visit from Cowboy," "Curiosity and the Cat," "Zippy and the Worry Charm," "The Geese," "The Forgetful Turkey," "On Leave," "The Gift," and "Traditions"
Winter Season includes: "Mitzie Niegel," "First Snow," "Sergeant's Rounds," "Harriet the Hawk," "The Winter Robins," "Midwinter Thaw," "A Time for Play," "Star Gazing," "Ben's New Home," "Mr. Flinch's Birthday," "Mr. Blinch," "The Visitors," and "Twelfth Night"
Spring Season includes: "Mudball," "Flower Petals," "Buster: A Story About Bullying," "The Spring Festival," "The Band," "Sally," "The Turtle Shell," "Harriet Hawk and the Big News," "Ben's Big Surprise," "Strawberries," "The Birds That Didn't Listen," "A Dip in the Pond," and "Sally and the Squirrel Circus"
Summer Season includes: "The Squirrel Circus is Here!," "Fredland the Moose," "Moving Mouse," "Spiro's Secret," "The Pie Festival," "The Lost and Lonely Owl," "The Cool House," "Brothers and Sisters," "How She Does It," "Beaver Days," "Connections," "The Open World," and "The Diamond"
Sample Pack includes the four stories that introduce this collection: "The Cat's New Home," "The Rowlands," "Mr. Flinch," and "The House of Chairs"
For more details on the stories, check out their full descriptions here.